We sell service and install car audio either to replace or upgrade. We specialize in installation of Stereos, speakers, aerials, amp & bluetooth. We can supply or fit or supply and fit if we haven't got it we can get it for you.
JVC
KW-M150BT: This is the new Multimedia reciever from JVC and is very popular with all the tradies! This system has everything you need whether you need to connect your new reversing camera to the system, or connect your phone to the handsfree system (this way you won't get in trouble with the police), or simply just listening to music on your drive throughout the day, this unit can do it all! This system has a 6.8-inch monitor with built in bluetooth and wireless technology.
Features: Bluetooth, Made for Iphone, 6.8-inch monitor, USB mirroring for Android, Rear view camera ready, Touchscreen, Steering remote and more!
Price: $468 - Price includes installation cost. Some vehicles may require additional parts.
KD-X462BT: This is a digital media receiver with bluetooth wireless technology and USB/AUX input.
Features: Bluetooth, Spotify, Automatic Bluetooth Pairing, 2 phones can be connected at all times, USB Charging, 2 Line LCD Display, Variable colour illumination, Music sync illumination, Low Battery information, Steering remote ready, remote control app.
Price: $259 - Price includes installation cost. Some vehicles may require additional parts.
KDX-161: This is a basic but brilliant digital receiver, with AUX & USB inputs for digital music playback.
Features: Front USB & AUX inputs for digital music playback, compatible digital formats are MP3/WMA/WAV/FLAC/AAC, High contrast LCD screen with vertical alignment, 1x RCA Pre-out (2.5v), 3 band graphic equalizer, 1.0 Amp charging for smartphones and Suits Aerpro harness APP8JVC5 (Optional, sold separately).
Price: $280 - Price includes installation cost. Some vehicles may require additional parts.
KDX-560BT: If you want a unit that is small but has more features then most units then look no further! The KDX-560BT is a Digital reciever which can also act as a reversing camera! This fantastic unit offers something unique compared to its rivals, a 3" screen sits on the face of the unit this allows for a reversing camera to be hooked up, so that your unit not only entertains you but acts as a third eye to keep you out of harms way when reversing. With a ton of features and slick design you will be very happy with your new Digital reciever!
Features: 3 - inch QVGA Monitor, Short body, Bluetooth (R) Wireless Technology (Built-in), Bluetooth Audiostreaming A2DP and AVRCP 1.5, Rear View Camera input, made for Ipod/Iphone, Front USB, AUX input (Front / Mini jack), Media Playback: MP3 / WMA / m4a, AAC / WAV / FLAC / Ogg / JPEG, PNG, BMP. Video Playback formats: MPEG1/2/4, H264 MKV. 3 Pre - Output Terminal, 13-preset EQ, Steering wheel remote ready, Sound DSP with DTA, Dimmer Control.
Price: $395 - Price includes installation cost. Some vehicles may require additional parts.
KW-M750BT: If you are loking for the full package then here it is! The KW-M750BT has everything you need to truely enjoy your music experience in your car. This has all the connectivity options and the latest in smartphont control, in one easy to use interface. With Apple CarPlay, Android Auto, and Weblink, this reciever lets you control many of your smartphone functions directly from a big, bright 6.8" resistive touchscreen or your voice. CarPlay seamlessly intergrates your iphone into the driving experience, thanks to its slick interface that puts iphone content right at your fingertips. You will be able to access your music library, Audiobooks, phone, messages, navigation, and many third-party streaming music apps too. For Android it is the same, the reciever intergrates your android to the interface for a distraction free driving experience. You will have easy voice access to Google Maps, waether, music, apps and also your txt messages! You will find a rear USB and AUX ports that can handle your digital music files, as well as music from your iphone and android.
Features: Screen size 6.8" Wide VGA, Touch Panel Clear Resistive, Built-in Bluetooth for Hands Free-Calling and Music Streaming, External mic included, 13-Band Graphic EQ, Bass Boost, High-Pass Filter/ Low-Pass Filter, 3-Way X'over, High Resolution Audio, Space Enhancement, Sound Response, Sound Lift, Time Alignment, Dual-Zone Function, Dual Camera Input, Triple 4v Pre-Out (Front + Rear + Subwoofer).
Price: $734 - Price includes installation cost. Some vehicles may require additional parts.
NAKAMICHI
NAKAMICHI Head Unit 1:
There are 3 types of this head unit, all are the same in style, the shape, the quality of sound there are just slight variations.
All the units have built in bluetooth and support for lossless music playback, voice operation: push to talk, USB music files, mobile app control, 1A phone charging and a rear MIC interface. Operated power is DC 10.8V-16V and is a tiny 178x50x160mm encased in a cast aluminium heat sink. They share the same 4 channel FL/FR/RL/RR Pre output and have a built in amplifier and have a maximum power of 4x50W, it also has a built in radio receiver, support RDS receiver and comes with a wireless control. All of these features are wrapped up in a sleek stylish look. The only thing that differs the units are there compatability.
The 3 Types of Units:
NAKAMICHI Head Unit 1 DIN CD, Tuner, Bluetooth. Code - NQ811B.
NAKAMICHI Head Unit 1 DIN DVD, CD, Tuner, Bluetooth. Code - NQ911B.
NAKAMICHI Head Unit 1 DIN Tuner, USB, Bluetooth Mechless. Code - NQ711B.
NAKAMICHI Head Unit 2 DIN Media Player Navigation Ready:
This unit The Nakamichi MA3610 features a 6.8" full colour touch screen display for videos and photo playback, which makes for the ultimate entertainment in your car. Thanks to its built in bluetooth receiver you will be able to make and receive calls saftley as well as listen to music from multiple sources. The unit has GPS Navigation built into it. The unit includes an external microphone, a Rear 1A USB input (FAT16/32 USB drives only) and a Rear 2A USB input (charging only) and a DVD/CD player. MP3/WMA/JPEG/MPEG1/2/MP4 Playback. It has a SD card input (used for GPS Maps), a rear Audio /Video input (use AUX2 for 3.5mm input) and a reverse camera input (compatible cameras). Rear Video output (x2), RCA 4.0V Audio output (2 pair), Subwoofer RCA output (x2) and RDS. A rear wired remote input with learning function, remote control - mounting cage and brackets included.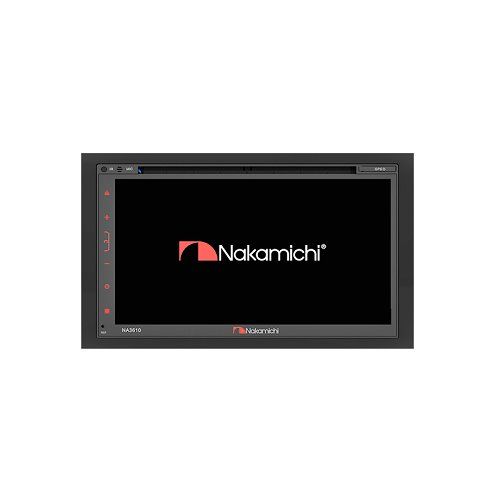 Power requirement: 12V DC Negative ground (11V - 16V acceptable), Speaker output: 50W x 4, Speaker Impendance: 4 (4-8 acceptable), size is 178mm x 100mm.
NAKAMICHI Head Unit 2 DIN With Android Auto & Apple Car Play:
The Nakamichi NA3605 unit works with Apple CarPlay and Android Auto (Android 5.0 and above only). The unit has a brilliant 6.8" WVGA double DIN AV Multi-media receiver suitable for universal use across all vehicle models. The fantastic AV muli-media receiver comes with multi connectivity features such as CD/DVD, USB, SD card and Bluetooth for immediate access to your entire entertainment library. The other great thing about this unit is that it also supports MP3, WMA and Lossless music files giving you the best of all worlds. Thanks to the Bluetooth handsfree feature you will be able to connect your phone wirelessly, this way you will be able to stay focused on the road as well as listeneing to your music or making a phone call. For Iphone users, this AV multi-media connects to Siri so that you dont just get real time navigations but assistance with music, maps, phone calls and messages too. Voice control works just as well with Android Auto so that Android users get access to similar functions and features. This unit is also reverse camera ready, should you want to add one for parking assistance.
Features: Size: 6.8". Resolution: 800x480. Disc Format: DVD, VCD, CD, CD-R, CD-RW, DVD+R, DVD+RW. Video Signal Format: NTSW/PAL. Video Output: 1+/-0.2V P-P. USB Standard: USB 2.0 High speed. Max Current: DC 5V-1A. MPEG1/PEG2/MP4/RMVP/MP3/WMA/JPEG. Bluetooth 2.1 + EDR. Rated Power: (RMS) 50W x4. Pre-output(V): 4V / 10K. (WxHxD): 178 x 152 x 100mm.
NAKAMICHI Head Unit 2 Din With MirrorLink:
The Nakamichi NA3600M, our DVD 2 DIN receiver with built in Android Mirrorlink for ease of access with your mobile phone and is compatible with a wide array of CD and DVD formats such as DVD/VCD/MP3/MP4/CD-R/CD-RW/DIVX. Supports both FM/AM radio channels as well as RDS for receiving important traffic updates while you are on the road. Of course, not forgetting Bluetooth input, for Handsfree calling, as well as streaming your high resolution music files through to your vehicles sound system. Built in 10 band EQ adjustment and preset EQ's lets you adjust the sound to match your style of music, so you will never be out of tune.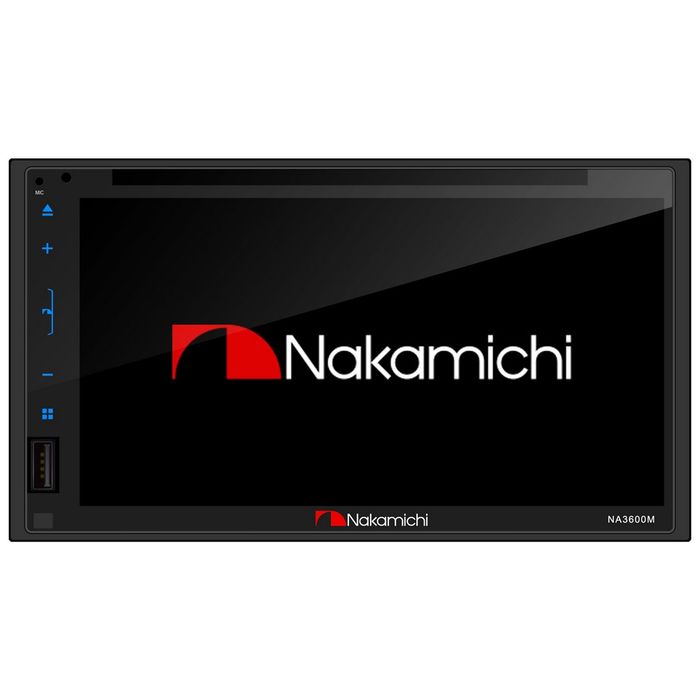 Features: 2 DIN 6.75" Full glass capacitive screen with DVD player. Compatible with DVD/VCD/MP3/MP4/CD-RW/DIVX. Built in Bluetooth, Suport A2DP bluetooth music. Touch screen with GUI (Graphic User Interface). Support USB for music, image and video files. Built in Radio receiver, Support RDS Receiver. Built in amplifier, maximum power 4x45W. Support certain Android phone mirrorlink. Support 1080p video playback. With wireless remote control. Support rear MIC interface. Support 1A phone charging. Front-view camera input. Rear-view camera input. 4V FL/FR/RL/RR Pre-out-put. 3V Subwoofer Output. Two Video Output. One A/V Input. Resolution is 800x480. The operated power is DC 10.8V - 16V. The product size is 178x100x152mm.