Reversing cameras, driver cams, 360 cameras the range is huge and growing by the day talk to us about what best suits your needs. We can supply or fit or supply and fit if we haven't got it we can get it for you.
FRONT & REAR VIEW CAMERA
These fantastic little cameras are perfect for your everyday run around family car or work ute. They can be mounted almost anywhere due to there fantastic small size and a range of different mounts are available. We can supply and install these great little cameras which will give you clear rear view vision at 170 degrees, so that you can safetly reverse out of any space you are in. These can be linked up to the in-mirror monitors you see below, or can be connected to a 4.3" monitor which usually sits on the right hand side of the driver.
Features: 170 Degree Angle Lens, The Video system has both NTSC & PAL, 480p Quality screen, DC 12V, 7mm Diameter for camera wire run through, Parking line on/off switch wire and Mirror/Normal image switch wire.
IN-MIRROR MONITORS
These brilliant devices are designed to work the same as a rearview mirror but a part of the screen turns on when your vehicle is shifted into reverse, giving you the guidance you need to reverse safely as well as retaining that straight from the factory look. There are 2 types of these in-mirror cameras; a "Replaceable" one which if you have a compatible windscreen it can mount to that, or the second one which is a "Clip on", which simply just clips over the existing mirror.
Replaceable Monitor Features - Large 5" screen, auto switch on when reverse is engaged, concealed display zone (looks like a normal mirror), High-resolution digital LCD colour screen, Power memory & low consumption, Two video inputs - RCA, Easy touch controls.
Clip-on Monitor Features - Large 5" screen, auto switch on when reverse is engaged, concealed display zone (looks like a normal mirror), High-resolution digital LCD colour screen, Power memory & low consumption, Two video inputs - RCA, Easy touch controls.
CH-200
This sleek and clever camera delivers great looks with great features, coming with a Forward Collision Warning System, Lane Departure Warning System, this is a camera you can definitely rely on when it comes to safety and with its HD camera, you can capture everything you need in crystal clear quality.
Features: Sony CMOS Sensor, both front and rear 1920x1080p Full HD 30fps, Wifi Support - Watch live and recorded video by your smartphone with wifi, Blacksys App for iPhone and Android, Lane Departure Warning System, Forward Collision Warning System, Format Free Technology - reducing the error rate of the SD card by saving the video files to a pre-allocated space, Low Voltage Cut-Off - User can set the Cut-Off voltage according to the parking condition (11.8v-12.2v, 0.2v interval), and finally the High-Temperature Cut-off - which detects the temperature of the inside of the vehicle and can cut-off the power automatically when it reaches 87 Degrees Celcius.
MONITOR & CAMERA KIT - REVERSE OR REAR VIEW
This setup is ideal for Trucks, buses, campervans etc, the setup is a complete 12-24 volt reversing camera system suitable for larger vehicles. A basic setup with everything you need to keep getting the job done and safely. You get a 12-24 volt 7" LCD colour screen monitor with a detachable sun visor, the monitor regulates the power input to supply power to the 12v camera, 150-degree diagonal night vision camera, 20 metres of 4 pin heavy-duty video cable, there are also extension cables that come in 5, 10, 15 and 20-metre lengths.
WATCHDOG 3
The best way to manage your fleet is with this the Watchdog 3, this is a High-speed performance automatic motion detection system which is able to help you manage your fleet and protect your business assets. The features with this are extensive and are sure to impress!
Features: Fleet Telematics Solution - Comprehensive statistics and detailed reports such as GPS location, speed, drive and idle times, as well as live video and audio are accessible in real-time. Tamper-Proof Cameras - Secure your memory cards, cable connections, and camera lens angles of each camera unit to ensure constant protection and preservation of critical video files. Automatic Loop Recording - Videos are saved as 60-second video clips. Once the MicroSD card has neared its storage capacity, clips are overwritten automatically beginning with the oldest files first. Dual MicroSD Card Slots - Dual memory card slots double recording time of a conventional dashcam system. Each slot accepts up to 128gb memory card. Both memory cards are protected thanks to the Tamper-proof case that comes standard.
Cloud-Based Fleet Management System - Login to your FMS dashboard for a real-time view of your fleet anytime, anywhere. Access snapshot data and event videos remotely. Automatic Motion Detection - The vehicle is safely monitored while parked via motion detection and G-sensor impact detection. If your vehicle moves during a motion recording, continuous recording is started automatically. The Watchdog 3 utilizes a high-performance CPU (Cortex A8 800MHz). This processor reduces computational time and further enhances equipment stability. Expandable Storage - Utilizes the built-in USB port to backup recordings to a USB thumb drive, or to connect an external hard drive (SSD) for up to 1TB of in-vehicle file storage.
Automatic WI-FI Data Offload - Effortlessly upload files to a local backup server when a vehicle returns to the depot via automatic wireless upload. Emergency Event Recording - When the embedded G-sensor detects an impact, the scenes from 15 seconds before until 15 seconds after the accident are saved as separate video files to a secure location on the memory card. In-Cab Infrared LED'S - The interior-facing infrared lens illuminates the cabin, even in pitch black lighting conditions, for clear night-vision video inside the vehicle. Extreme Temperature Tolerance - Designed for operating reliably in high-heat and cold environments, the Watchdog 3 has passed temperature tests from 30.5 degrees to -20 degrees Celcius.
The brilliant thing is that it doesn't end there. If you want to obtain more information about your fleet please head to the Accessories page where you will find the TireAngel Pressure system designed and supplied by the same company.
WATCHDOG 4/8 360 DEGREE CAMERA SYSTEM
To really ensure you know what is happening with your fleet this system is the way to go! The Watchdog 4/8 360 degree camera system comes with a bunch of wicked gadgets and cameras, so that you get a fill 360 bird's eye view of your truck. This package you can have 4 cameras all the way up to 8 cameras, either 4 normal, 4 360 degree cameras, or the full 8 which is 4 of each or 8 normal cameras. The 7" - 10" HD monitor gives you a crystal clear picture, and depending on how many cameras you choose to get installed to your truck you will always be able to know what is going on around you. This way you can continue the job safely. All the data collected on the storage device is stored onboard the vehicle, unless demanded online using the fleet management system. You can do a review on any information you need to, going back as far as 90 days! The main perks of this system is your vehicle is completely covered, you know what's happening with every part of the truck, if an accident occurs you will know who is responsible, saving a lot of time and money. This system also has the optional extra of internal cameras with sound, chiller and freezer cameras, the chiller cameras can withstand temperatures to -7 degrees Celcius and the freezer cameras an impressive -20 degrees Celcius.
The System and its Features - For starters with the 4 Channel Camera system - Option 1 - 4x birds eye 360 degree up to 1080p HD. Option 2: 4x normal cameras up to 1080p HD. 8 Channel Camera system - Option 1: 4x Bird eye 360 degree plus 4 normal cameras all up to 1080p HD, Option 2 - 8x normal cameras all up to 1080p HD. Comes with a solid-state drive/drives up to 4TB, all storage devices are in a lockable solid tamperproof case, this also comes with a driver alert which is just a push-button for the driver which goes on the dash (optional). 7" - 10" HD Monitor, Chiller camera -7 degrees Celcius (optional), Freezer camera -20 degrees Celcius (optional). Last but not least the HD 1080P 4 CH 360 degree Online Recorder.
All data that is collected is encrypted, only specified admin or user access. All the data is stored on the vehicle, unless demanded online using the fleet management system. Also, a keyed data SSD tray can be removed for viewing and admin login records all users who have accessed the machine or saved data.
NAKAMICHI REVERSING CAR CAMERA:
The Nakamichi NC-5L rear view camera proudly carries the name of this trusted brand and is designed for universal use. The best thing is that it is super affordable and definitley a must have safety feature for any vehicle.
This brilliant little camera has been built to take the stress away from driving in reverse, the versatile 90 degree lens-angle colour CMD (photosensitive chip) camera comes with night vision capabilities so driving at night is no longer an issue. On top of that, a colour CMD camera captures and projects both dark areas and brightly illuminated areas easily and clearly. The IR-illumination adjusts exposure almost instantly when emerging from darkness to bright light.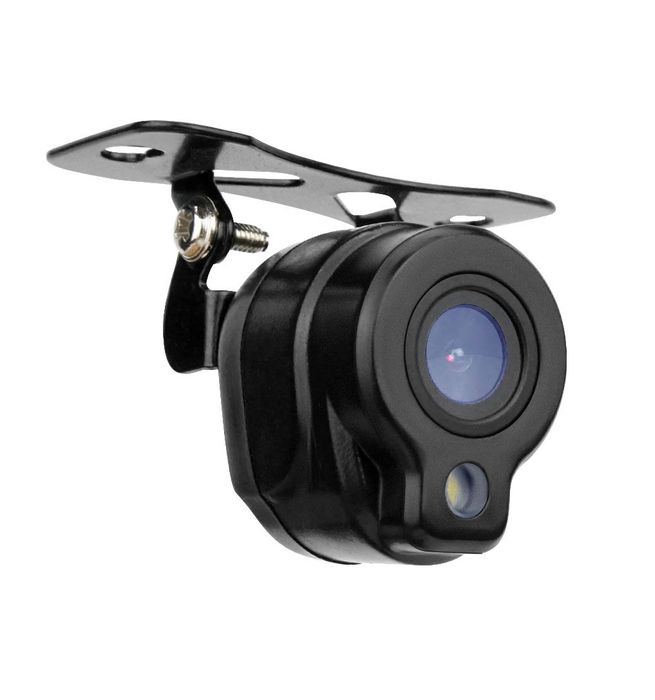 The NC-5L rear view camera certainly gives you the upper hand in preventing accidents, avoiding children, traffic, pedestrians, pets, curb ways and even forgotten toys left behind your vehicle while backing out of the driveway or parking space. Now reverse parking like a pro has never been easier, the nifty little camera accords you with a view from the back of the car complete with intelligent trajectory tracks for a more accurate judgement.
Features: Trusted Japanese brand name in acoustics and electronics, Super affordable, Must have preventive saftey measure, Color CMD (Photosensitive chip), 90 Degree Lens angle, IP68 Waterproof, helps prevents accidents, Trajectory tracks, Reverse park like a pro.